Food distributor and wholesale in Hungary
Food distributor and brands manager in Hungary
Whitle Lake is a food distributor and grocery merhant wholesaler in Hungary and we deal with trademark representation of dairy products and ambient goods. We have broad industry experience both in the local grocery market and efficient brands' management in Hungary and in the region.
We manage the following brands in the Hungarian market:
Milram
Philadelphia
Hofmeister Käserei Champignon
Leerdammer
La vache qui rit
Kiri
Babybel
Exquisa
Ehrmann
Jacks Cheese
Bergader
Frischli
Heinrichsthaler
Royal Buisman
Bebo
Puck
Emborg
Carpatina
Castelli
Valio
Oho
Dan Cake
Coffee Jardin
Continental Bakeries
Nordex food
Kolios
Kaija
Jermi
Rollton
Kollvit
Greenfield
Kalas
Schedro
Tess
Tebike
Other various brands
We are open to extend our portfolio to new dairy and ambient product brand representation and distribution.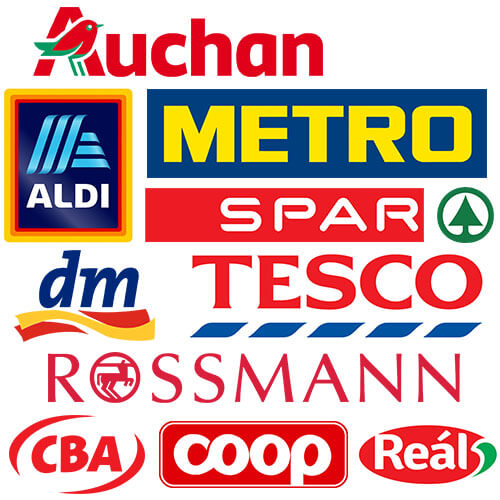 Our trading partners:
Multinational chains: Aldi, Auchan, Metro, Tesco, Spar, DM, Rossmann
National chains: Coop, CBA, Real
Independent wholesalers and shops
Gastro and HoReCa partners: restaurants, hotels, confectioneries
Public catering
Industrial partners
We deal with long-term, strategic partners whose product portfolios strengthen the others', thus creating a win-win situation for our partners through stronger trade positions.
As a food distributor and wholesale in Hungary we have a countrywide cooling distribution system so our products can be delivered to all parts of the country six times a week.
We identify with our partners' strategies and provide representation for them in Hungary which means a considerable time and cost saving.
commitment towards our partners' business strategies and goals coupled
high level marketing expertise in brand building
powerful key accounting,
close contact with trade partners over many years.
full-coverage support by our numerous and efficient field force.
highly efficient logistics High ICT and administration standards
As one of the leading food distributors in Hungary we offer outsourced solutions in sales, business support, and marketing. We are continuously investing in our people, brands and business, but is it is our people that who really make the difference. White Lake offers full service nationwide sales and marketing operation, covering retail, wholesale, cash & carry, the independent trade, industrial, and foodservice sectors.